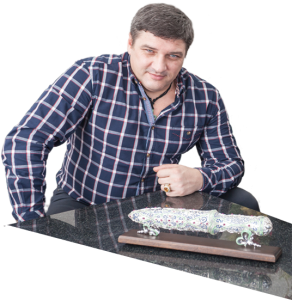 Brand AG Gorodnichev was created in 2014 by the jeweler-designer Andrew Gorodnichev.
The combined experience in the jewellery field is 17 years. All these years Andrew made all the sketches of the performed work by himself. More than 7 years of working he has been creating the high jewellery to order.
During this time, he took part in 15 exhibitions dedicated to jewellery making and painting, all were awarded by diplomas and prizes. In Russia, the AG brand participated in the exhibition "Guest Yard" under the title and got the order to make a prize for the World Championship in Russian billiard ("Palmira Palace", Yalta).
A great number of products were manufactured in a single copy and are in private collections. The products are used precious metals, precious wood and various kinds of stones.
Currently, the company opened Gorodnichev.LTD in Thailand. The purpose of the project is to create a large-scale production of jewelry in Thailand, which will focus on the production of exclusive collection of the high class, the goods will be sold with the help of the partners , as well as in their own networks for the implementation of jewelry in Asia , UAE and CIS countries. The entire range of work requires very painstaking attitude to the work and participation of a large number of specialists. Each of the experts is investing in a product not only an incredible amount of time, but also a part of his soul, thanks to which obtained the highest quality products.
The topicality and prospects of the project confirmed the absolute uniqueness of the product itself. Our product has no analogue, the business was created by a professional jeweler with the 17teen years of experience and masters's own style. Besides the collections of Master in our production we can make products to order in an exclusive version. Our experience and organization of production make it possible to create a product that is not currently existed in the market, low cost is achieved through our own production and direct procurement from suppliers of raw materials
Products made in a single copy, in which is embedded a lot of work of professionals, are of particular value. Subject largest jewelry form can be a great gift for a friend or business partner. Unusual jewelry on the body or in the home – a great way to stand out, to show individuality, as the exclusive product immediately catches the eye.
All the products are unique and have the refined style.