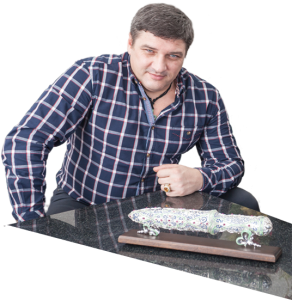 My name is Andrew and I am a jewelry designer with an extensive experience in the market of jewelry. I am in the business over 17 years, 7 of which I worked on my own by making handmade jewelry to order. During the work I took part in 4 national and international exhibitions of jewelry, which gave a huge impetus to the development of my own business.

After opening my own company with qualified staff, I began to develop several areas, the are the following:
Brass casting – manufacture of interior elements;
galvanic production – icons and other religious items;
As before, we plan to develop all the areas we have developed and added to the list of the production of souvenir and exclusive products. Our plan is to manufacture products with an exclusive design, which is an excerpt from years of experience.
Successfully settled in Thailand, having established uninterrupted production and marketing, we do not plan to stop.
We plan to export the product, not only in the UAE but also in Hong Kong, Russia and other countries. It is planned to participate in the international exhibition, which will be held in Hong Kong.
The basis of our products in the future will make the gifts and exclusive sets (chess, knives), interior (frames, candlesticks and so forth.), As well as large religious ornaments.